Summary:
This blog post has covered everything you need to know about app install ads. You will learn about the different types of app install ads, pricing models, and the best ways to create an effective app install ad campaign.
What are app install ads
App install ads stimulate installs of your mobile app from sites other than app stores. They frequently employ paid acquisition techniques that navigate the audience straight to your Google Play Store or Apple App Store listing and help you acquire new users.
The customer is routed to your app in the stores when this form of advertisement is displayed. These advertisements may appear on websites, apps, social media feeds, search results, and more.
Mobile app marketers place these app install ads higher on their priority list because they are essential for a user acquisition strategy to be effective.
Your mobile app install ads are more likely to be successful if you can respond to a search query with an offer to address the user's issue or pique someone's interest with your concept in their online activities.
While there are many different types of app install advertising, they all have the same user acquisition objective in mind.
So, how do app install ads drive user growth? By appearing on channels with a clear CTA to download an app, app install campaigns can quickly increase app downloads and help your app's user base.
App companies can calculate ROAS (Return On Ad Spend) utilizing various business models and metrics that govern how app install ads work.
Let's discuss the metrics one by one.
Cost Per Install (CPI)
The cost per install (CPI) for mobile app advertising represents how much money is required to install one app on a smartphone or tablet. In mobile app install campaigns, cost-per-install advertising is employed, with app marketers paying for each targeted app installation.
By putting app install ads on various media networks, marketers can increase app downloads by using cost-per-install (CPI) data. Also, they are charged based on fixed or bid pricing for any installations.
To calculate your CPI, you can review the last statistics of your app installs campaigns. When you have it, use the following formula:
Total Budget = Targeted Installs x CPI
Due to increased conversion rates, CPI rates are typically higher than others. So, a user's installation of an app has an immediate effect.
Expert help for your app's CPI campaign.
Cost Per Action (CPA)
In contrast to CPI rates, CPA rates only charge for specified acts. They also adhere to affiliate marketing principles.
Nevertheless, since fewer networks and platforms support this strategy, it may be more difficult for marketers to see success. Yet, because CPA rates are determined by dividing cost by the number of conversions, this form is incredibly quantifiable.
Cost Per Mile (CPM)
The cost per thousand, or CPM, is computed based on every thousand impressions an advertisement receives. Depending on the ad format and operating system, CPM prices can change.
Cost Per Click (CPC)
The Cost-Per-Click model dates back to the early 2000s and is arguably the earliest in the rates family. That applies to each potential user who clicks on the app install ads. Cost-per-click rates are often lower than CPI and CPA fees because there is less evidence of conversion.
After telling that, let's explore mobile app install ads on other platforms, starting with Google.
Types of app install ads
App install ads can be seen in several formats and on various platforms. These include short and long-form videos, display ads, banner ads, interstitial ads, search network ads, and native ads.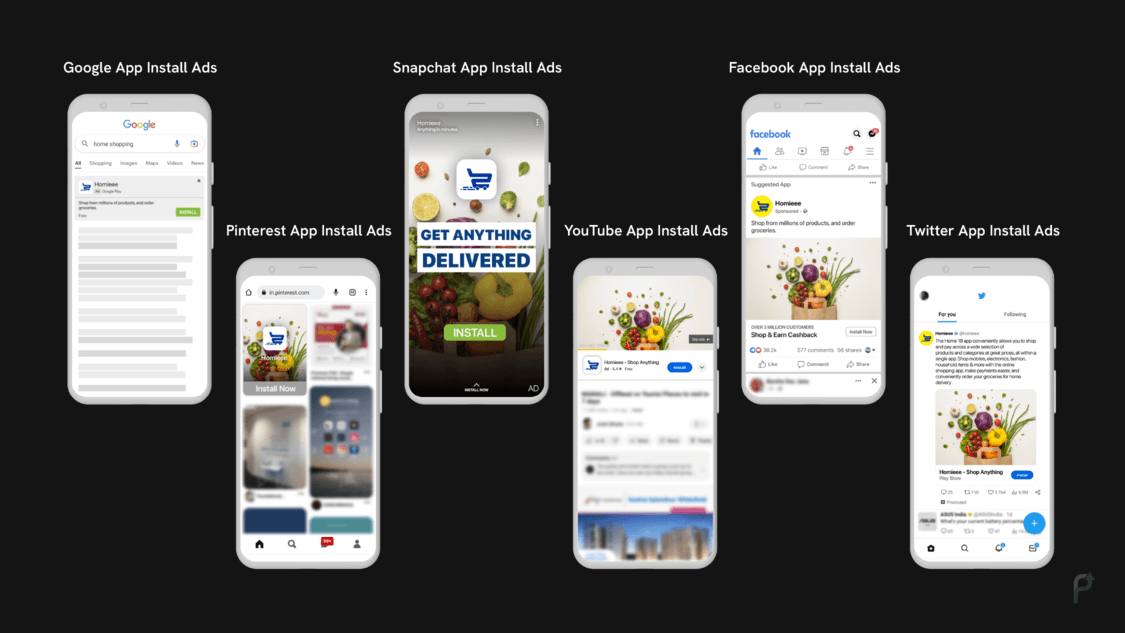 Different Types of App Install Ads
Google App Campaigns
Google App Campaigns are great for promoting new apps, raising awareness of existing apps, and encouraging app downloads. They function on many Google-owned platforms, including YouTube, Google Display Network, Google Search Network, and Discover.
To run advertisements across multiple channels, Google needs input from advertisers. Using it, Google can evaluate performance and offer insightful data, such as:
Type of Ad: Banner or interstitial
Ad Content: App Store rating, icon, description
Ad Location: Google Play, Search network, YouTube
Action: What happens when consumers click on an advertisement? (usually linking to the app store)
Moreover, Google App Campaigns run advertisements in the Google Play Store and surface for users that conduct relevant app searches. All you need to do is set up the campaign (location, target CPI, etc.) and hand it off to Google. Using machine learning, Google will adjust the performance of your ad as it appears on Search, Display, and YouTube.
Snapchat App Install Ads
Snapchat app install campaigns have a swipe-up feature that directs consumers to the app's listing in the Google Play Store or the App Store to download it. The main benefit of this kind of advertisement is that users can continue using Snapchat while downloading your app from the ad.
To re-engage past users, Snapchat also delivers a Deep Link attachment option. If Snapchat users already have your app installed, they can swipe up to a specific location, such as a certain level in a game or a department in a shopping app.
Even if the user already has the app downloaded but hasn't made any purchases, a Deep Link attachment can take them to the checkout page. Also, they will be redirected to the app store to download the app if they don't already have it.
Facebook App Install Ads
App install ads on Facebook, Instagram, and the Meta Audience Network can help marketers improve the number of app installs from Facebook. To evaluate the rate of app installs from Facebook, they will need to interact with the Facebook SDK (Software Development Kit). App install ads can run through Facebook Advertising or Meta Business Partner.
With Playable Ads, Facebook allows users to preview and play a game app before installing it. The CTA button directs users to the App Store or Google Play Store so they may download the complete app when they've finished the trial.
The targeting options of Facebook app advertising are what makes them so effective:
You may target people on Facebook based on their precise demographics, interests, activities, and device kinds.
Based on the vast amount of user data Facebook has, you can generate lookalike audiences of your most valuable users.
Re-target consumers through re-engagement campaigns based on earlier activities within your app.
Pinterest App Install Ads
App install ads on Pinterest are known as Promoted App Pins. Instead of navigating the competition in app stores, they offer an efficient way for Pinners to get your mobile app from Pinterest.
Because Pinners invest more time and money in the apps they buy, app purchases from Pinterest have a higher lifetime value.
Promoted App Pins are available for iOS and Android devices and contain an Install button and a readily recognizable app symbol to make it simple for Pinterest users to download your app:
You have two optimization goals to pick from when building your Pinterest app install ads:
App Install (completed installs of your app) — You set the bid at your goal CPI, the Pinterest algorithm automatically updates CPC bids every day (depending on your specified target CPI and the anticipated likelihood of an install), and you pay the CPC when users click through to your app store page.
Visitor traffic to the download page during app installs — Advertising operates like a typical CPC campaign, focusing on click-through rate. To achieve install goals, you manually change bids.
YouTube App Install Ads
It's sensible to market your app on YouTube, the most popular video-sharing website (550 million of its 1 billion monthly active users are on mobile).
The fact that YouTube advertising is all videos sets them apart from those on other platforms. Accordingly, the videos in your YouTube mobile app install ads include CTAs that point to your app store listing. Video ads may also contain text, an app icon, app store text, a YouTube video link, and an app store rating.
Targeting is similar to other social media platforms utilizing user demographics, interests, and devices. Also, since Google owns YouTube, you may link your account with Google Play to view all the statistics.
Twitter App Install Ads
Twitter app install ads appear as "App Cards," either in video or image format, in the user's home feed. When seeing a Tweet on their timelines, mobile users can use App Cards to preview an image, check app reviews, and install or open an app.
While having a smaller user population than Facebook, Twitter has a significant user base and advanced targeting tools. Like their Facebook counterparts, Twitter app install ads can target specific demographics and audiences that resemble them to draw in new users while retargeting lapsed users for retention.
A cost-per-app-click pricing model is used by Twitter for mobile app install ads, ensuring that you only pay for clicks that open the app or direct users to app stores.
Here are a few examples of ads that stimulate hundreds of thousands or perhaps millions of users to install apps. The following app installs ads come from various sources, including social media, interstitial adverts, mobile search, and app store search.
Examples of Effective App Install Ads
Westwing: Used Facebook app install ads to promote their app, which led to about 5000 installs and a 270% return on ad investment.
DoorDash: Using the Facebook app install ads that appeared as an advertisement in search results for searches like "food delivery near me."
ZipCar: Used Facebook app install ads that showed up in the news feed of the Facebook app and blended in with other posts.
BillGuard: Leveraged social proof in their advertisements and used a video ad to demonstrate how their app saves buyers money.
mySupermarket: Used Facebook app install ads to boost app downloads and broaden their network, leading to a 2000% rise in page likes.
Steps for creating an effective app install campaign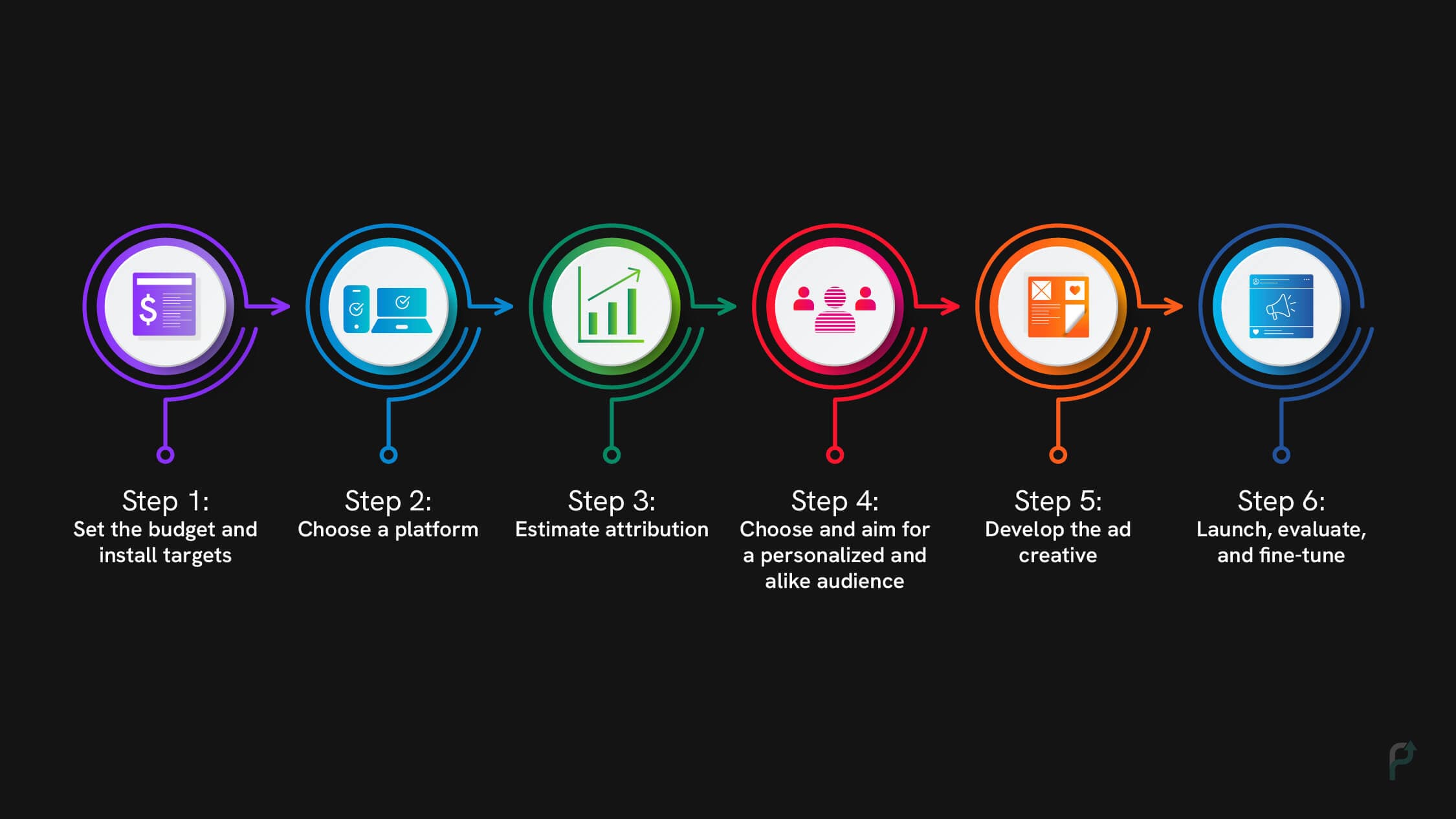 Steps For Creating Effective App Install Campaigns
Set the budget and install targets.
Have a clear goal for the number of app downloads you want while fixing your expenditure for an app install campaign. A CPI model will measure this. The ad location, platform, and app category are just a few variables that will affect your CPI.
You will have a fair idea of how much funds you require to achieve your goals and how many app downloads you received within the budget. This will also tell you whether you need to adjust your budget for future app install campaigns.
Choose a platform
The next step is selecting a platform, such as Facebook, Twitter, or Instagram, for app install ads. Ads can run on desktop, mobile web, Android, and iOS devices. To integrate all of these alternatives, you can use a single network.
It will depend on several factors where you aim:
Who will be your audience
The app's category
If available, previous data insights on your best channels
Finding an advertising model with a range of rewarding ad choices that target your desired user types while ensuring a positive ROAS (return on ad spend) is key.
Estimate attribution
Specifying the attribution of app installs while executing app install campaigns may be difficult. You must gauge and keep tabs on campaign performance. Different attribution models apply to Google Play and the Apple App Store.
Working with a mobile app marketing platform that can set up campaigns correctly to incorporate attribution and give you reports with precise data is the best course of action.
Choose and aim for a personalized and similar audience
Depending on the type of app install ad, your ideal target demographic may be specific or general. Picking a platform requires you to make some selections regarding the target audience.
A part of your users are probably already familiar with your app, and some of them may have interacted with you in the past. So make this group your first point of focus. Finally, to create those lookalike audiences, evaluate the attributes of this likely installer.
Create the ad creative
You must have creatives for your app install campaign. Depending on the ad inventory and platforms you choose, it will require several types. These advertisements must have relevant images and calls to action (CTAs).
Launch, evaluate, and fine-tune
Your mobile app install ads are now ready to go live! If you completed the tasks in the preceding phases, you should be able to direct the appropriate traffic to your app. Yet the journey is not over yet.
Result analysis and data will be fed by your mobile app marketing platform. You will often find insights that point to refinement, such as which CTAs or visuals are most effective.
Understanding the best practices for developing mobile app install advertising is as vital as learning about the best app install campaign strategy.
Solve app install campaign challenges now.
Best practices for mobile app install ads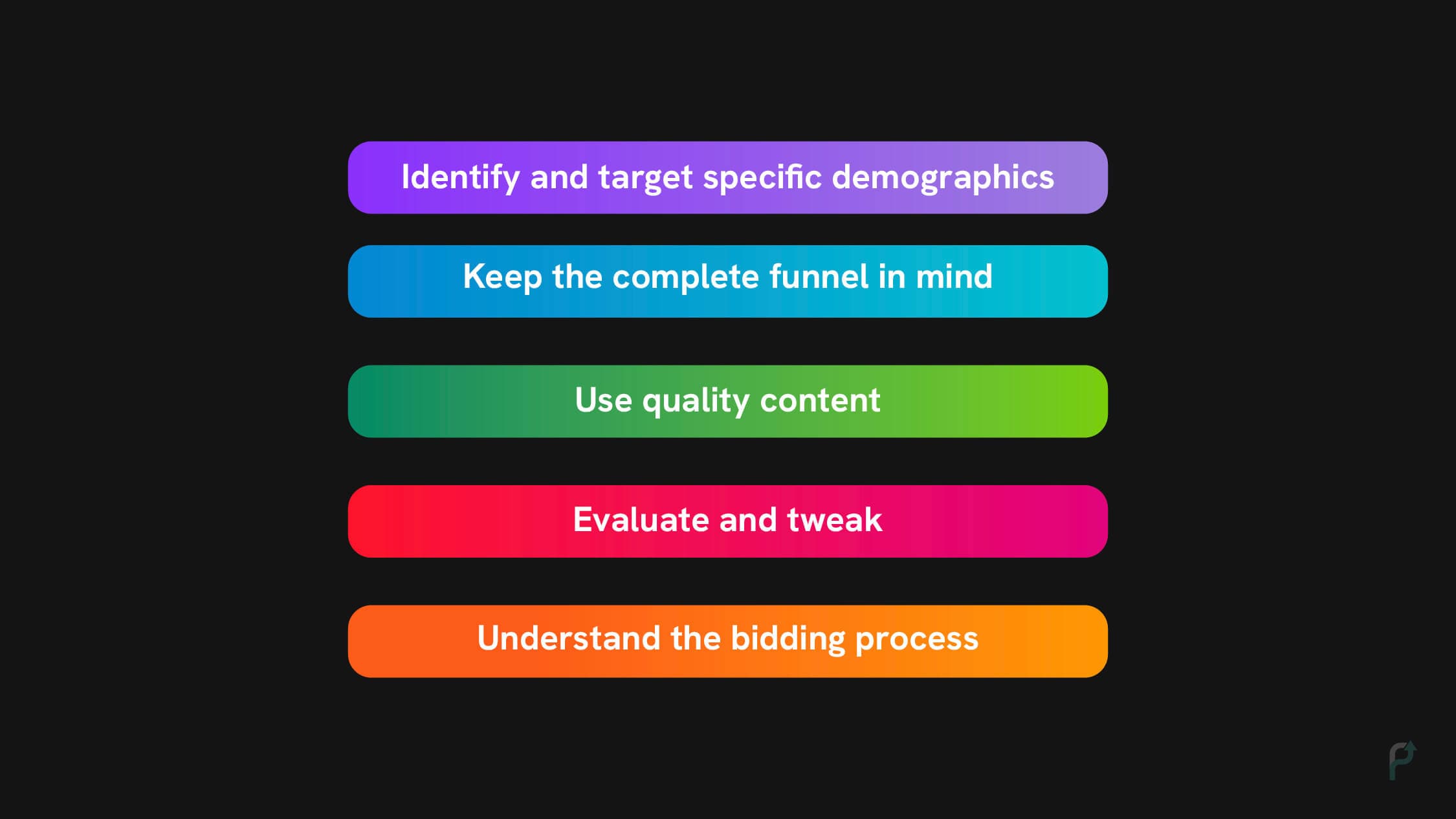 Mobile App Install Ads: Best Practices
Identify and target specific demographics
To get the most out of your advertising budget, run app install campaigns that target a specific audience already familiar with your brand or app—people who have used your app, engaged with your ads, provided personal information, etc. Also, to reach potential app users, you should establish lookalike audiences.
Keep the complete funnel in mind
Even if "last touch" sources don't matter exclusively in the customer journey, last-click attribution is the industry standard. Many touch points are crucial in the decision-making process and frequently influence conversion across the funnel.
For instance, someone might see your app install ads on Facebook, afterward on YouTube, and finally on Twitter before installing it. Given that the first two contact points introduced the app and then kept it in people's minds, it wouldn't be fair to attribute all the success to Twitter in this situation. The user might not have converted if they hadn't been there.
Use quality content
Another one of the significant mobile app install ads best practices is using good quality content. The promotional video or image of the app will create the first impression, so make sure it is high-resolution, good quality, scroll-stopping, eye-catching, and relevant to your app.
The app description language will affect whether or not the user downloads the app, so ensure you have engaging content that matches the app's relevancy once the image or video has caught their attention.
Evaluate and adjust
Several marketers measure the effectiveness of their app install campaigns by keeping track of how much the app's ranking in the app store changes after the launch of the advertisement. In light of this, app store rankings also count on uninstalls, active users, ratings, and reviews. The rise of users and revenue are two more growth indicators.
Take the time to modify your targeted approaches in light of these figures and the data at your disposal. To find the ideal messaging combination, ensure you test various videos, images, and copies.
Furthermore, it's a good idea to set separate ads that connect to their respective store if you have both an iOS and an Android app. One study indicates that by doing that, you may experience a significant boost in app downloads.
Understand the bidding methodology
The bidding procedure varies for each platform. Google Ads, for instance, rotates advertising and modifies bids using machine learning. And Facebook utilizes optimized CPM bidding to optimize all advertisements using Facebook's algorithms.
For a better install experience, it is advisable to become acquainted with the bidding procedures for various platforms.
Now that you understand the fundamentals of app install ads and best practices for app install campaigns, let's talk about the various platforms that offer these ads.
What kinds of app install ad platforms are there
There are various platforms for app install ads. Some operate as cloud-based SaaS platforms, while others embrace an agency strategy. Most will use a CPI or CPA model to drive app install campaigns.
These are:
Performance Marketing Platforms
When you only spend for measurable results, typically through native ads, you are practicing performance marketing. However, while it uses a CPM strategy and can reach thousands of prospects, it typically costs significantly more. A lesser risk of failure is an advantage of this higher rate.
Learn more about performance marketing agencies by reading our blog.
Growth Marketing Platforms
Growth marketing is the process of testing and applying fresh approaches that combine technical prowess and innovation to increase app downloads. Full-funnel marketing is a part of growth marketing and assists app marketers in making the most of app downloads rather than dismissing them.
Self-Serve Advertising Platforms
Almost always SaaS applications, self-service advertising platforms let advertisers purchase and run their app install campaigns. They aren't technically DSPs either because they don't let advertisers manage the supply sources.
Multi-Campaign Platforms
A tool to track app install conversions for you typically makes it simpler to monitor them across several platforms. There are several other venues where app install ads can run, including Google Display ads, Google Search Network, Facebook ads, and Apple Search ads. So, using multi-campaign platforms may be beneficial for app marketers.
Key Takeaways
App install ads are the most effective approach to grab a prospect's attention and significantly increase app downloads.
Think about how different channels can be valuable. The advantages and benefits of various advertising platforms will vary.
The most effective channels for generating app installs and highly engaged, long-term users should be tested by app owners, who should assess each channel's effectiveness.
Pay attention to your intended audience. Understanding your target audience is essential when developing content and designing your app ad. If you cannot specify the target audience, it would be challenging to create an appealing commercial.
App install ad platforms can give your campaigns a comprehensive perspective with focused and targeted tactics.
And before you go, don't forget to share this article and inform everyone in the industry about tips and tricks for app install ads.