Summary:
This article gives you a comprehensive overview of the best mobile app growth strategies that will help you to acquire new users for your app.
It will also shed light on what an app growth strategy is and the factors limiting your app user growth.
Are you an app developer who has launched your app successfully? Then you of all people must be aware that this is just the beginning of your app growth journey. The next important step is to acquire users for your apps. In this article, we will go over the best app growth strategies that will help you to acquire new users.
What are app growth strategies
App user growth refers to the increase in the number of active users of an app and in turn, an increase in the revenue rates. App growth strategies are marketing and promotional tactics for your app. These strategies lay out a plan to acquire new users, keep your users engaged, and more.
Studies show that 0.5 percent of the apps that exist fail because of fewer users. A consistent increase in downloads is important for a mobile app to gain success. Once it has enough users, an app needs to retain its users with enough engagement and a consistent growth strategy.
Let us now understand why some mobile apps do not attract enough users.
4 factors that restrict app user growth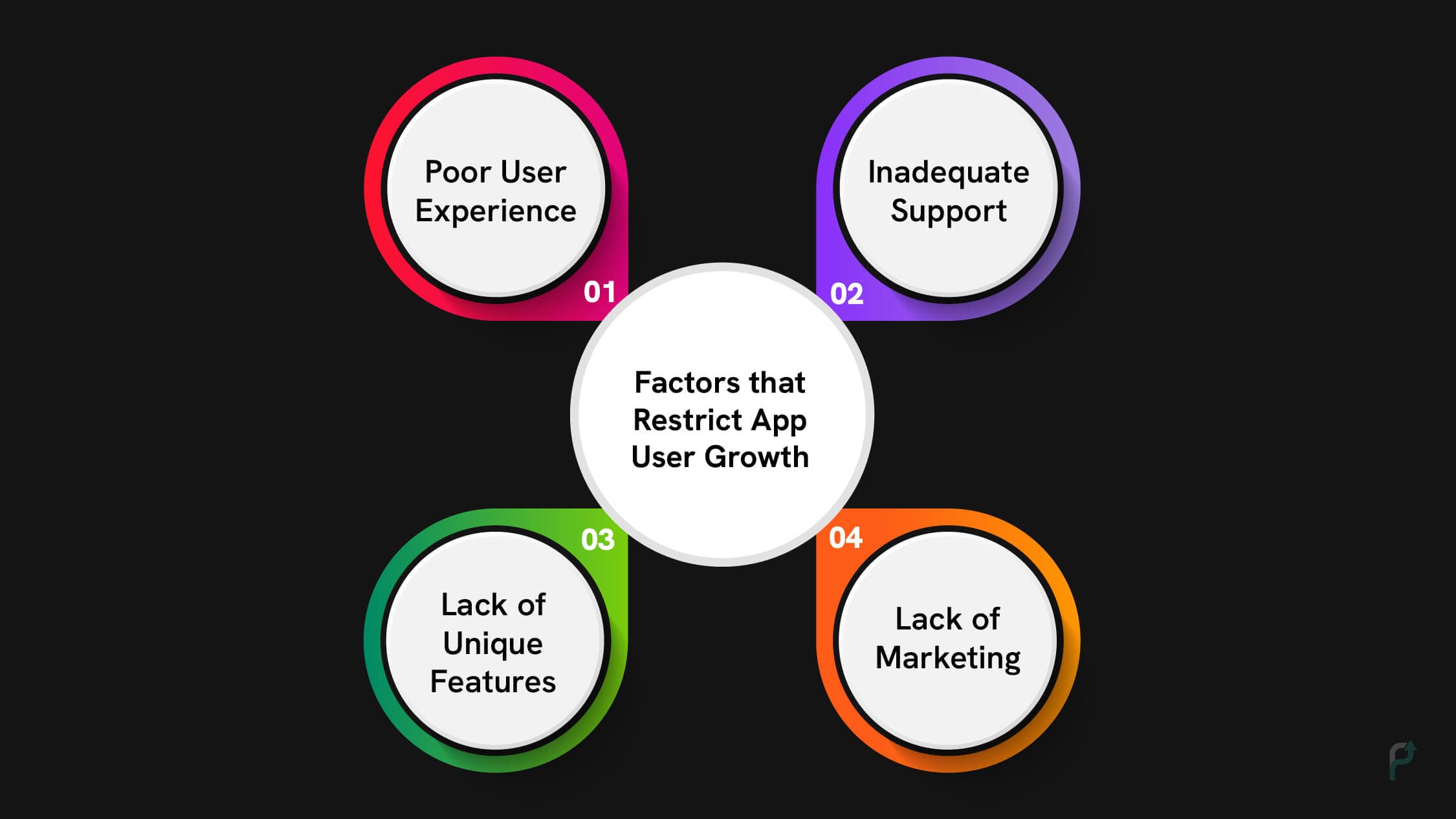 Factors that Restrict App User Growth
Poor user experience

Good user experience is important to both retaining existing users and gaining new users. If a mobile app is complicated and difficult to navigate, it contributes to poor user experience. Such experiences will cause users to spread the word through customer reviews, leading to fewer app installs.

Inadequate support

If a user faces slow response rates and delayed addressing of queries or concerns they will not continue to engage with the app. It can lead to multiple uninstalls, negative reviews, and a bad user retention rate.

Lack of unique features

Numerous new apps are coming into the market every day. So if an app lacks unique features that make it stand out in the app game, users will opt to install a competitor's product instead.

Lack of marketing

A mobile app, regardless of how many useful features it has, requires the right mobile app advertising tactics to reach the target demographic. Users need to be aware of an application for them to install it.
These issues can be resolved with the right mobile app growth strategies.
Let us now look at some of the best app growth strategies to take your user acquisition game to the next level.
App Growth Solutions Await You.
Best app growth strategies to acquire users
Identifying your target audience

As an app owner, it is essential to learn more about your market and know your target audience. Apart from it being an effective app growth strategy, it also helps your knowledge about your users, which could aid in any future decision-making. Doing in-depth research on your users and analyzing their behavior is required to know which users to target. This step forms the base for all the other mobile app growth strategies that we will discuss later on.

By having a clear understanding of your user base, you can tailor your content to suit the niche audience, create targeted app growth campaigns and use the right channels to promote your app. Understanding your audience better can help you create an app that meets the expectations of the audience and thereby, helps drive organic app growth.

Knowing your users better also helps in increasing the app user growth. You can identify the areas that require improvement and refine your app's functionality and help contribute to your mobile app user growth

App Store Optimization

App Store Optimization: App Growth Strategy

App Store Optimization (ASO) is the tactic that is typically employed to help increase the organic ranking of a mobile app in the App Store or Google Play Store. It helps convert app store visitors from mere browsers to users. It is an efficient app growth strategy to help your mobile apps acquire loyal users.

ASO is the optimization of mobile apps so that they rank higher in the search pages of the App Store or Google Play store. This ensures increased visibility and more users for your mobile app.

ASO also includes optimizing your app's icons and screenshots. This helps an app garner more positive reviews. ASO can also help boost your mobile app's credibility and bring in new users. When users are presented with a compelling app listing they are more likely to install your app, helping you in the higher app user growth.

Email marketing

As of 2023, 81 percent of the emails were opened on mobile devices. This is why it is wise to use email marketing as a winning app growth strategy.

As a channel, email helps you get in touch with potential users on a personalized basis. Email marketing helps onboard new users and encourage them to click on the CTAs and start using the app with ease. These customized emails highlight the benefit of your app and guide how to get started.

By offering updates, promoting app features, talking about new releases over email, and providing incentives for engagement, email marketing helps to increase user retention rates.

Content marketing

Creating content based on what your audience would want to learn about will be an effective app growth strategy.

Content marketing involves creating and promoting videos, blogs, facts, infographics, and so on. The content may or may not directly promote an app but it will certainly pique the interest of your target audience by creating content that interests them.

You must first understand the kind of content that will appeal to your target demographic. Once you do that, you have to create quality content that is relevant and interesting. After that, you can make use of Search Engine Optimization (SEO) to increase the visibility of your content in Search Engine Result Pages (SERP). Then try to direct your users to your mobile application through the content you create. Also, use clear calls-to-action (CTAs), optimize your landing pages, and optimize your content for conversions.

Finally, analyze your content and track its success rate on tools like Google Analytics. Gain insights into the kind of content that resonates with your audience and drives app user growth. This will ensure that your content is refined and your user acquisition is easier.

Influencer marketing

One of the most popular app growth strategies is influencer marketing. Influencer marketing involves collaborating with an influencer who has a huge follower base and promoting your product along with them. This will help tap into a wider demographic and help increase brand awareness.

By leveraging influencer marketing, your app will gain credibility and help form a trusted user base because there is tangible proof about your product. Building long-term partnerships with influencers is another way to ensure brand loyalty and drive sustained mobile app growth over time.

While this is a relatively new concept in the world of app growth strategies, it is also proven to have given excellent results.

App referral programs

App Referrals: App Growth Strategy

App referral programs refer to rewarding or incentivizing an app user for referring the mobile app and bringing in more users for it. App referral programs primarily aim to encourage more app downloads.

Referral programs have proven to be an efficient app growth strategy because they tend to create a viral effect. Users who are referred to the app will in turn refer more users, creating exponential growth for the application.

It is also an effective way to reach your target audience since your current users are likely to refer the app to potential users who share similar interests.

Push notifications

Push notifications are pop-up notifications generated by an app when the app is not open. It reminds the user to open the app or provides them with updates or notifies them of any new feature the app might have launched.

Push notifications usually come into play only after the app is installed but it helps with engagement and retention. So push notifications must be your focus while creating an app growth strategy.

Push notifications can be programmed to reach the audience at a specific time enabling the target audience to view it when they need to. These notifications can also be deep linked to a specific page or feature in the product, helping users explore the app better.

Retargeting campaigns

Retargeting is when a mobile app tries to engage users who have installed the mobile app but have not been active. Retargeting can be done via social media, emails, push notifications, and more.

Sending personalized messages to the user is an excellent way to reach out to them, increase conversions and ultimately drive growth for your app.

Tracking the performance of your retargeting campaigns is also a foolproof way to gauge how well the campaigns were received. This can help optimize campaigns over time and gain better growth results for your app, making it an excellent app growth strategy.

Demo or free trials

Offering a "play before pay" model is an excellent app growth strategy to attract the right users. Free trials convert users into leads very fast.

Demos and freemium entries offer a reduced entry barrier for new users. This can encourage more people to try out the app and drive mobile app growth. Demos or free trials can also help upsell the app to users. It will prompt the users to convert potential users to a paid app version.

By offering a demo version, you can track users' journey through the app, gauge their expectations and incorporate improvements accordingly. Refining the app this way will appeal to more users.

Video Marketing

Creating videos in the form of ads, explainers, tutorials, and reels are easy and effective ways to optimize user acquisition. This makes for a winning mobile app growth strategy because audiences are quickly drawn to or influenced by information if it is presented visually. If you employ high-quality graphics in your videos, you are well on your way to tapping into the right pool of audience.

Explaining the features and functionality of your app and educating people can help create awareness about your mobile app. It can also encourage users to download and try out the app.

Ensure you make simple videos with end-to-end information and aim to add value to your customer's knowledge. This will prompt you to research and explore more about your app, thereby, converting them from prospective users to app installs.

Paid advertising

Paid advertising is an effective user acquisition strategy that can help increase awareness about your app to a massive audience.

Employing methods like Pay Per Click (PPC), programmatic advertising, sponsored content, native ads, interstitial ads, or even video ads are sound methods to garner more users. Having the right CTA will ensure your audience clicks on your ad and installs your app.

Plan your budget, identify the most productive channels to place your ads on, and analyze the ad format that would work best for your product. Planning and strategizing are essential for you to run a successful ad campaign. Planning also helps you understand why or why not a certain campaign fulfilled its objective.

These paid campaigns do not just help increase visibility and attract new users but also prompt old users to complete steps like registering, subscribing, etc. Thus, paid advertising is one of the most effective app growth strategies.

Lower Costs, Higher Installs.

PR and Press Coverage

Public Relations (PR) is a critical app growth strategy of this age. Apart from popularizing your app, it also helps educate users and form long-term relationships with media professionals.

You must first identify and connect with journalists and media houses who operate in your niche area. Collaborating with freelancers, bloggers, influencers and publishers is another proven way to popularize your app via media.

Target early adopters with your app and try to gain their attention so they could help popularize your app. Also prepare a media kit with enough information about your app, its strengths, and its achievements. This will facilitate the media person in delivering quality content about your app and drive app user growth.

Webinars

Webinars: App Growth Strategy

Webinars are an excellent choice to level up your user acquisition strategy because they help with brand awareness and offer personalized interactions.

Physical webinars require the target audience to be physically present in the event and participate in the webinar. It is a useful strategy to network, demonstrate the capabilities or functionality of your mobile app and get prospective users to sign up. Adding personalized touches to the event like giving vouchers, goodie bags and free trials makes physical webinars an effective app growth strategy.

Virtual webinars take place online and all a user needs to attend is a stable internet connection. Virtual demos, online training, and virtual presentations are usually done via these kinds of webinars.

Webinars can thus help educate an audience, create brand awareness, and help form strategic partnerships. Webinars can also help collect data on potential users- their email addresses, contact information, and other demographic details. This data can be used to create targeted app install ads campaigns that ultimately contribute to your app growth strategy.

Good user experience

User experience focuses on having a good understanding of your users, their needs, values, and their limitations. So you have to create an app that meets the users' expectations and adds value to them. The app you create must be useful, easily navigable, and most of all, credible.

Increased user satisfaction will lead to them recommending your application to more people and increase user acquisition. A top-notch user experience will reduce acquisition costs by increasing user retention and referral marketing.

If users have a great experience using your app, they are more likely to leave positive reviews and feedback. So presenting a good user experience is a powerful app growth strategy.

Customer support

Customer support is a range of services that help customers use the product cost-effectively. They also happen to be the backbone of your app. So having a robust customer support system is crucial.

Responding promptly to customer feedback, queries, and complaints helps increase user satisfaction and loyalty. Responding on time to users' issues also reduces churn rates by keeping them hooked to your mobile app.

Having a good customer support protocol also helps increase app store ratings, ultimately leading to more app installs. So, paying close attention to customer needs and grievances is a very important app growth strategy.

A/B testing

A/B testing involves comparing two versions of an app or webpage with each other and gauging which one was received well by the users. A/B testing is akin to an experiment that makes use of statistics and helps determine which content performs well.

By helping you understand which content resonates with the target audience and which does not, A/B testing helps optimize user experience, resulting in increased user engagement and retention. A/B testing also ensures that your app or website avoids risky content that could negatively impact your app.

A/B testing also helps use statistics and make decisions based on hard numbers, further helping you optimize your user experience.
Key takeaways
Having an excellent app comes with many challenges. However, having an effective app growth strategy in place is one of the most important steps for an app developer to consider.
Narrowing down the right mobile app growth strategies will help harness your app's potential in a better manner. While all the above-mentioned strategies are unique, no one-size-fits-all approach can be deployed for user acquisition for your mobile application.
So it is imperative that you try and test many strategies and figure out which one works best for your mobile application. We hope this blog helped you understand the importance of growth strategies for apps.
Keep watching this space for more interesting reads!