Summary:
A Google AdX partner is a company that has an MCM partnership with Google.
Getting access to Google AdX account is difficult if you try connecting through Google directly.
Google channel partners offer a relatively easier process to get a GAM AdX account.
Read about how you can choose the ideal Google AdX reseller.
We all know that Google AdX is a pathbreaking product of programmatic advertising that most publishers use to monetize their apps and websites. There are many Google AdX partners in the market. But whether all of them suit a publisher's requirements determines if they are the right monetization partner for apps and website businesses.
So, without beating around the bush, let's try to understand the criteria Google AdX publishers must apply to get access to a Google AdX account. We'll also uncover the conditions for choosing a reliable Google AdX partner for apps and websites.
How to access Google AdX Account
Let's use a bottom-to-top approach and learn how to access a GAM AdX account before jumping into what a Google AdX partner is.
There are two ways you can get access to a Google AdX account.
By signing up directly with Google and speaking to a Google account manager.
By signing up with a Google publishing partner or Google channel partner.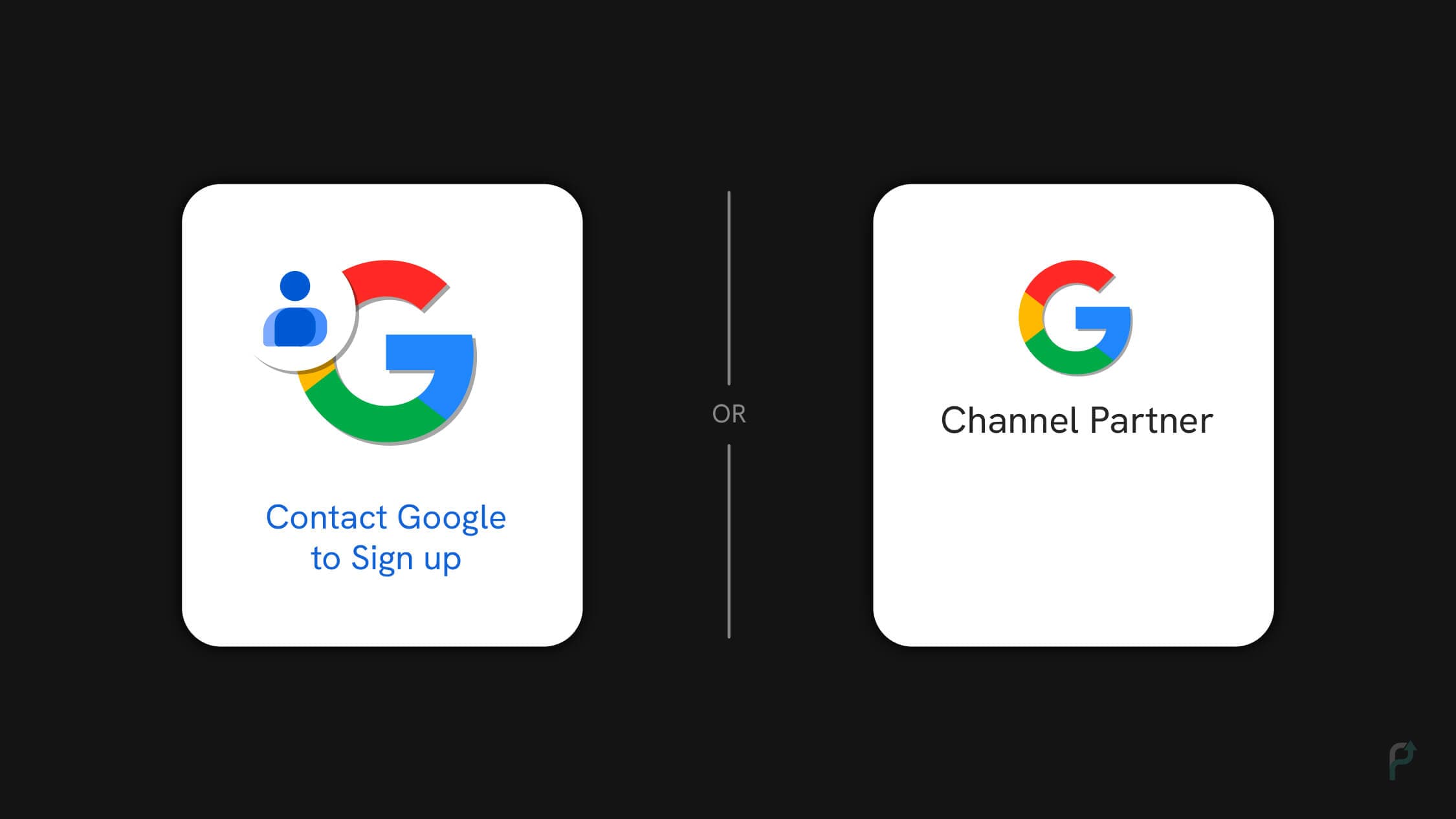 Ways to access a Google AdX Account
The difference between the two sign-up processes lies in the complexity of the eligibility criteria that the platform imposes on your apps and websites. There are certain conditions that an app or website must meet in order to be accepted directly by Google for monetization. Let's take a look at Google's eligibility criteria.
Eligibility criteria to sign up directly
Although Google does not explicitly mention its eligibility criteria for a Google AdX account, as experienced players in the business, we know about the things that could be road blockers in getting a GAM AdX account.
Apps and websites must not contain content that may be non-brand-safe. For instance,

Adult content
Content related to religion or religious beliefs
Drug paraphernalia or content related to drugs
Medical or health-related
Promotional content related to a particular race or ethnicity
Harmful content about the financial status of a person or business
Content related to selling alcohol, tobacco, or weapons

Apps and websites must not exhibit altering behavior that may lead to involuntary clicks, downloads, or redirects for the user.
Websites must not include pop-unders or content or buttons that trigger pop-unders.
Apps and websites must mandatorily host an ads.txt file (app-ads.txt for apps).
Apps and websites must have content in languages supported by Google. Some languages that Google AdX does not monetize currently are as follows.

Croatian
Estonian
Greek
Hebrew
Indonesian
Latvian
Lithuanian
Romanian
Serbian

Apps and websites must have at least 5 million monthly active users (MAU) and 5 million monthly pageviews.
Eligibility criteria to sign up via a Google channel partner
The eligibility criteria for a Google AdX account through a Google AdX partner may vary for different partners. However, some standard criteria that most Google channel partners may place in the following areas:
Monthly page views (may differ from partner to partner)
Amount of traffic (may vary from partner to partner)
Content - Illegal, unlawful, or unethical content is not allowed
IVT - Invalid or bot traffic is not allowed
Ads.txt - Presence of ads.txt or app-ads.txt file is a must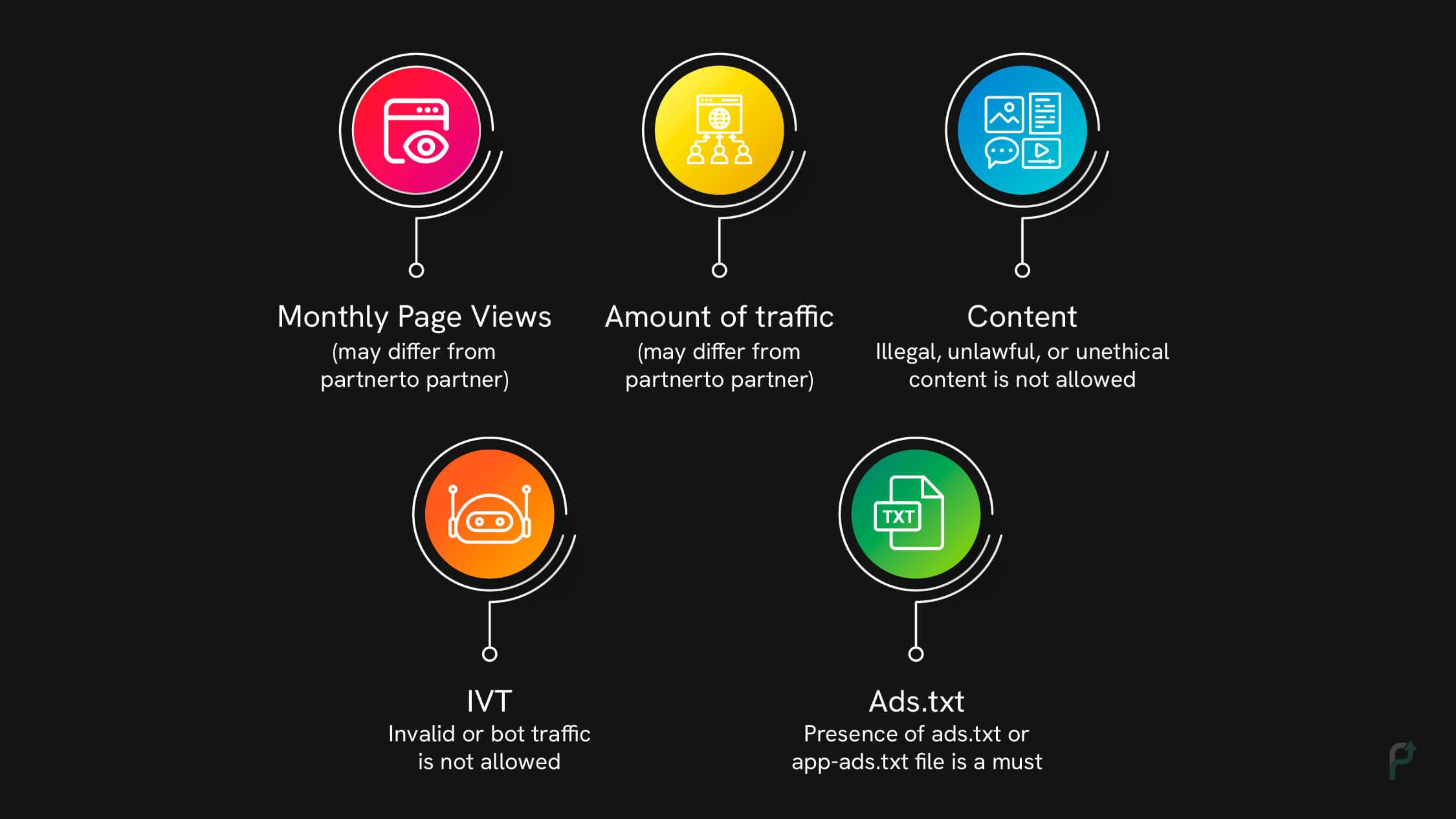 Eligibility criteria to access Google AdX via Google channel partner
Hope the direct and indirect ways of signing up for a GAM AdX account are now familiar. Let us now see what exactly is a Google AdX partner.
Who is a Google AdX partner
Google ADX partner, Google publishing partner, Google AdX reseller, and Google channel partner all refer to the same entity.
They are Google-authorized companies that act as third-party resellers of Google AdX. Such companies are entitled to a strategic partnership with Google through the Google MCM program.
Most Google publishing partners have a team that specializes in Google's programmatic advertising platforms, such as Google Ad Manager (GAM), Google AdMob, and Google AdX. A Google channel partner's professionals help publishers manage operations on the programmatic platforms by employing the right strategies to improve the quality of ads and, therefore, grow ad revenue.
Usually, publishers who do not have a Google AdX account or cannot meet all of Google's entry criteria choose to monetize through a Google AdX partner.
Are you facing issues while adding your games to GAM?
Why should you choose a Google AdX Reseller
Let's understand this by comparing a Google AdX reseller's service to a direct Google account manager's.
Upsides of signing up with a Google AdX Reseller
Streamlined onboarding process with necessary setup and configurations so publishers can focus on growth.

Support and expertise are needed to run a day-to-day operation like monitoring ad performance and resolving policy violations.

Access to additional tools and value-added services like custom reporting, ad creative services, and more.

A stronger relationship with Google means better familiarity with Google's policies and operations.

Cost saving possibility with lower revenue share and privilege to negotiate the pricing.
Downsides of signing up with Google Ad Manager
Challenging to set up and navigate; time-consuming configuration.

Limited support from the account managers and increased reliability on mere documentation.

Limited or no access to value-added services, leads to the restricted potential for optimization.

No continuous monitoring of ads, leading to potential ad revenue risks.

Prices are not negotiable.
12 criteria to choose a Google channel partner
Now that we know the significance of a Google channel partner, here are the top 12 checklist items that publishers must look for to shortlist one. Although requirements may vary between Google AdX publishers, these criteria are generic and helpful to everyone.
Google MCM partnership

MCM-approved Google AdX partners help you access AdX and effectively monetize ad inventory with Managed Inventory (MI) or Managed Account (MA) delegation. The MCM program also allows a seamless transition from the traditional Scaled Partner Management (SPM).

Experience and expertise

Consider the Google AdX partner's experience as a channel partner and verify if they have a proven track record of providing successful monetization with apps and websites. Additionally, the Google channel partner you choose should have detailed knowledge about the industry trends so as to provide valuable insights to its clients.

Client reviews

The chosen Google publishing partner must have positive reviews and ratings from clients. Also, word-of-mouth and referrals from fellow publishers can be relied on while selecting a partner.

Access to valuable demand

The ads displayed on a Google AdX publisher's site decide the user experience and ad revenue. Therefore, Google AdX partners must be associated with well-known demand side platforms (DSP), advertisers, and demand partners to provide access to high-quality ads.

Criteria to access Google AdX account

Check the entry criteria that the Google publishing partner requires to enable publishers to gain access to a Google AdX account. The criteria must be convenient for a Google AdX publisher's app or website to be eligible for a GAM AdX account. For example, if your app has 5K downloads per month, choose a Google AdX partner with an entry criterion of 5K or fewer monthly downloads.

Transparency in reporting

Being able to see what is happening with the ads is important, which is possible by having the right metrics in place in real-time. For most Google AdX publishers, the key KPIs to gauge the performance and success of ad monetization are show rate, match rate, eCPM, and impressions. Ad viewability, choice of placements, and formats are other essential factors that increase ad revenue.

Criteria to choose a Google AdX Reseller

Payout terms and conditions

When the Google AdX publishers get the revenue they make in their banks is an essential factor to consider. Most Google AdX partners have a payout policy of net-30, net-60, and net-90, which means the invoice is raised, and the revenue is paid to the publisher after 30, 60, or 90 days, respectively. Some Google channel partners also have a minimum payment threshold - the minimum revenue needed for the payment to be released.

Customer support

Unlike direct access to a Google AdX account, resellers offer customer support and dedicated account managers to help carry out day-to-day ad operations. For this, Google publishing partners employ a team of ad-ops specialists who can overlook the AdX account, identify errors, issues, and potential risks, and carry out necessary steps to prevent or avoid them.

No lock-in contract

It is vital for publishers to ensure that the Google AdX partner they choose does not indulge them in a lock-in contract that forces them to remain in partnership. Publishers must understand that they must partner with a Google AdX reseller for the desired results and not because of a lock-in contract.

Value-added services

Some Google AdX partners may offer VAS, such as follows.

Ad inventory management: These are services related to managing ad inventory by filling ad spaces with high-quality ads and identifying suitable ad formats, placements, and targeting.
Ad and yield optimization: Google channel Partners may use advanced optimization techniques, predictive analytics, and programmatic technology like RTB to maximize ad earnings.
Ad quality monitoring: Google AdX resellers help publishers identify fraudulent ads and policy violations by continually monitoring ads.
Tech support and training: Such services include customer support and training Google AdX publishers to use and navigate their Google AdX account in order to use it to its full advantage.

Technology and innovation

The Google AdX partner must employ advanced ad-serving capabilities, audience-targeting features, and a real-time reporting and analytics system. All these features come together to form an enhanced ad monetization platform.
Top Google AdX partners
Finally, let's look at some best Google AdX partners for publishers.
PubScale: It is a cutting-edge all-in-one monetization platform that enables publishers to acquire app users and apply monetization strategies to scale overall app and website growth. It is a Google AdX partner and even offers dedicated account managers for ad operations.

Monetize your games with the best Google Channel Partner now!

Automatad: Automatad is a monetization partner for enterprise and independent website publishers to grow their ad revenues. It offers ad-ops expertise and unique demand to scale website monetization.
OKO Ad management: It is a Google-certified ad monetization platform for both website and mobile app publishers, claiming to offer premium demand, optimization techniques, and one-to-one support.
MonetizeMore: It is Google certified publishing partner that helps publishers easily manage ad inventory and gain actionable insights into ad performance.
Adswerve: It is a leading Google channel partner, offering Google AdX publishers data and insights to grow their digital ads revenue.
PubGalaxy: It helps website owners increase ad earnings while allowing them to focus on creating content. PubGalaxy claims to have worked with 2000+ website publishers, enabling them to supercharge revenue and streamline ad sales.
Publift: Publift curates unique ad strategies for AdSense, Google AdX publishers, and app publishers. It transforms ads into the perfect secondary revenue stream by connecting publishers with the right demand.
Conclusion
The importance of a reliable Google AdX partner is evidently high for publishers who do not prefer getting a GAM AdX account directly. PubScale is a Google channel partner with over nine years of ad monetization experience. Reach out to us for app and website monetization services or in the case of any queries, and stay tuned for more helpful content!
Also, don't forget to share this post with your fellow publishers.