Summary:
This article has highlighted the importance of mobile app ad networks and their benefits.
It has also highlighted the best mobile ad networks for publishers to maximize their ad revenue.
In today's digital era, mobile apps have emerged as the catalysts of convenience and have transformed how we function. With internet connections prevalent in all corners of the world, apps have multiplied exponentially and continue to evolve. The adtech industry has leveraged this by launching multiple mobile app ad networks.
This article will examine mobile ad networks, explore their importance and benefits, and guide readers on choosing the best app ad network to enhance their ad revenue.
What is a mobile ad network
A mobile ad network is a platform that connects advertisers with app developers or publishers. In doing so, it helps publishers sell their app inventory and advertisers promote their products or services.
Essentially, app ad networks act as intermediaries for Supply Side Platforms (SSPs) used by publishers and Demand Side Platforms (DSPs) used by advertisers.
Importance of advertising on mobile apps
The in-app advertising market is predicted to generate $314.5 billion by 2023. Therefore, publishers must leverage in-app ads effectively to maximize their ad revenue.
It is also crucial to understand that mobile apps offer a more engaging environment than mobile web, creating an ideal environment for ads to thrive. They provide the perfect medium to captivate and encourage customers to engage with the ads.
Mobile ads come in multiple formats, such as Offerwall ads, playable or rewarded ads, and offer incentives to users. This makes it more appealing for users to click or engage with the ads.
Boost revenue, leverage ad networks for game success!
Why is choosing the right mediation platform important

Significance of Ad Mediation Platforms
Selecting the right ad mediation platform is paramount before discussing the best mobile ad networks for publishers. Mediation helps in-app monetization and optimizing the overall ad performance.
The following points will highlight ad mediation's significant role for publishers:
Integration with diverse ad networks

Ad mediation helps publishers connect with multiple ad networks, ensuring a diverse range of ad creatives. This increases the chances of filling ad slots with relevant, high-quality ads and reduces reliance on a single ad network for their ad inventory needs.

Users worldwide

Ad mediation enables publishers to access a massive pool of global ad networks and demand sources. In doing so, ad mediation ensures that users worldwide can view the ads, thereby increasing the reach and ad revenue.

Potential for increased competition and higher eCPMs

Ad mediation creates a competitive environment for multiple ad networks to participate in bidding. When many ad networks compete for an ad slot, it helps drive the eCPMs up. This results in more revenue for publishers.

Enhanced user experience

A sound ad mediation strategy helps serve relevant and non-intrusive ads to users. Users are highly likely to engage with ads that are relevant to them and lead to higher click-through rates.
Choosing the best mobile ad networks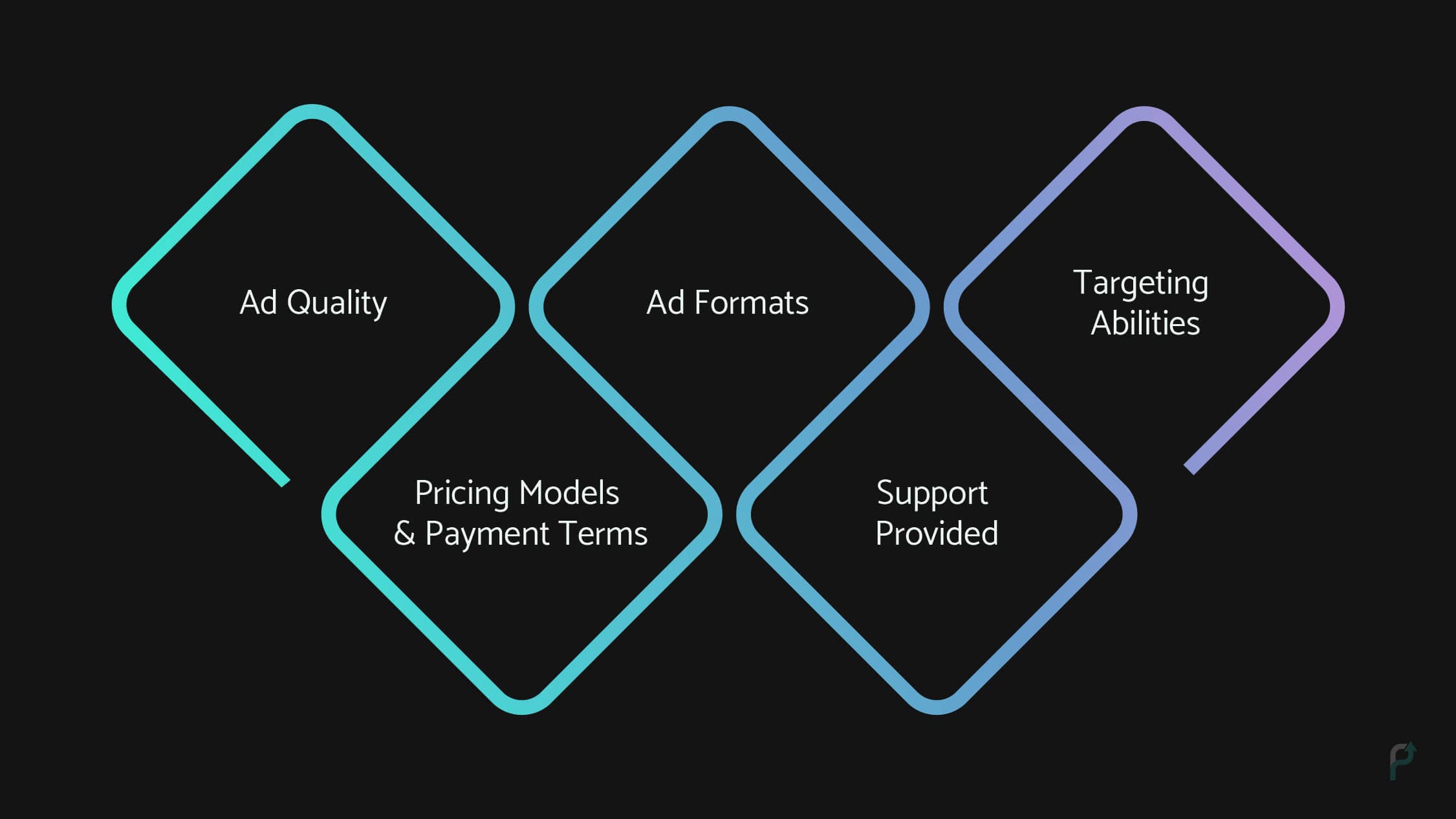 Best Mobile Ad Network Choosing Factors
Choosing the right ad network will depend on many factors unique to a publisher and the ad network. However, all publishers seek a network that serves quality and relevant ads. With various mobile ad networks available, it can be daunting for publishers to decide on the right one.
Here are some factors to consider while narrowing down the best mobile ad network:
Ad Quality

Serving high-quality ads is crucial in maintaining a positive experience and fostering a good brand reputation. The best mobile app ad networks must ensure ads are non-intrusive, safe, and appropriate. Afterall, suitable quality ads provide higher user engagement and lesser inclination towards ad blockers.

Ad Formats

Serving ads on suitable ad formats is vital to increase app engagement and user retention. Therefore, publishers must opt for the app ad network offering diverse and innovative ad formats.

Some common and preferred ad formats that the best ad networks provide are as follows:

Native ads
Interstitial ads
Offerwall ads
Rich media ads
Banner ads

Targeting Abilities

Publishers must carefully assess their targeting abilities when selecting an app ad network. Ad networks offering options that allow segmentation based on interests, behavior, device types, and more will assist in reaching and engaging their target audiences more effectively. This, in turn, can increase the likelihood of conversion and user satisfaction.

Pricing Models and Payment Terms

Publishers need to carefully select the best app ad network based on the pricing model and payment terms that the mobile ad network offers. The common pricing models like Cost Per Mille (CPM), Cost Per Click (CPC), and Cost Per Action (CPA). Publishers must choose the revenue model that aligns with their goals and user engagement levels.

Support Provided

Reliable and consistent support from a mobile ad network can have a significant impact a publisher's monetization journey. Support, such as timely assistance with issues, setup, and optimization can help publishers save time and effort.
15 Top mobile app ad networks
Now that we have understood the basics of ad networks and their importance, it is time to explore the best ad networks for publishers to maximize their app revenue to greater heights.
PubScale

PubScale is a one-stop app growth platform that can also serve as a mobile ad network. By acting as a mediator between publishers and over 15 premium demand partners, PubScale has stood out as one of the best ad networks for app monetization and app user acquisition.

It has enabled publishers to monetize with AdX, helped advertisers acquire users with GROW and optimize yields, and fill their inventories with SDK X. So, PubScale is an all-in-one platform that supports publishers' app growth needs.

Level up earnings, integrate PubScale now!

Google AdX

Google AdX is one of the most widely used and best app ad networks for publishers. It brings publishers, advertisers, and ad exchanges together in one unified platform. AdX allows publishers to serve up to five ad units on a page. They are highly customizable based on ad size, type, format, and more.

Google AdX is an app ad network that enables publishers to easily boost their app earnings through dynamic flooring, real-time bidding, private auctions, and preferred deals.

Google AdMob

AdMob, owned by Google, is a straightforward app ad network for publishers. AdMob allows publishers to advertise in different formats like text, images, video, or interactive media. This tool will also enable publishers to publish the ad format they want. AdMob generates ads with the help of Artificial Intelligence (AI) and simplifies the process for publishers.

AppLovin

AppLovin is an app monetization platform with access to over 100 ad integrations and partners. The platform supports multiple ad formats and includes real-time QA testing tools. It also offers detailed analytics and brand safety tools, enabling publishers to make data-driven decisions and serve policy-friendly ads.

Publift

Publift is an app ad network that offers publishers a range of demand sources to choose from. It supports formats like sticky footer ads, video, interstitials, and inter scrollers. It also supports A/B testing to ensure every ad placement yields the best results. Thus, Publift functions not just as an ad network but also as a revenue optimization partner.

InMobi

InMobi is an app ad network that can target users with its specialized "appographic" targeting. It achieves this by basing the targeting on the users' existing and previous applications instead of traditional metrics such as demographics or geography. InMobi also offers in-app monetization, ad mediation, and audience bidding for publishers.

Unity

Unity is a game monetization platform that specifically monetizes games through video ads. Unity also supports other ad formats like interstitials and banners. It is compatible with all platforms and game engines. Unity also enables publishers to set up in-app purchases, encouraging more engagement quickly. Unity also has an easily navigable dashboard so publishers of all levels of expertise can get instant reports on their campaigns.

Smaato

Smaato is one of the best mobile ad networks for publishers and advertisers. It supports multiple demand sources and helps publishers connect with the best-suited advertisers. It supports real-time bidding and a publisher platform that creates super auctions. It also supports multiple ad formats - video, banner, rewarded, and interstitials.

ironSource

ironSource is one of the most popular mobile app ad networks in the ad ecosystem. It provides a single point of contact to high-quality demand sources and a range of optimization tools. Their dashboard also has real-time reporting features that detail a range of metrics like retention rates, conversion rates, and Daily Active Users (DAU). They also provide user acquisition tools for publishers.

SmartyAds

SmartyAds is one of the best mobile ad networks offering a massive package of adtech tools for monetizing apps. This can give access to premium demand sources and ad agencies through OpenRTB protocols. It also provides customizable advertising solutions that enable publishers to be in complete control. It supports CPM or CPI formatting campaigns with various ad formats - rich media ads, native, interstitial, and banner.

MoPub

MoPub is an ad-serving solution that is specifically focused on app publishers. MoPub also has an open-source SDK that can enable publishers to optimize yields efficiently. It ensures that publishers allot the right inventory to the right demand source. MoPub API allows app publishers to integrate with their platform seamlessly. It supports multiple demand sources from top-performing geographies.

Fyber

Fyber is an app monetization platform that supports one of the best mobile ad networks for publishers. It supports ad mediation, and real-time bidding and also helps in audience segmentation. It offers IAB-standard compliant ad formats and greatly helps publishers increase their engagement rates. It helps publishers connect with global brands and ensures high fill rates.

Appodeal

Appodeal is a monetization for mobile apps. It does not have its own ad exchange but it enables publishers to integrate with multiple top-demand sources and sell inventories at competitive prices. It ultimately functions as an app ad network. It also offers an in-depth analysis of campaigns and A/B testing. Additionally, it has a fraud protection technology that helps publishers serve policy-compliant ads.

AdColony

AdColony is an advertising platform developed by publishers for other publishers. By acquiring demands from global advertisers and connecting them with publishers, AdColony functions as the perfect app ad network. It supports cross-platform monetization in Android, iOS, and Windows. It supports multiple campaign models like CPI, CPA, and CPC. It also helps drive higher engagement by offering Instant-Plat HD video ads.

Chartboost

Chartboost is an app network that has partnered with millions of supply and demand sources and has optimized the ad-serving process significantly. It offers publishers the option to select advertisers and also publicizes a list of CPIs across the globe on its website.
Concluding words
App ad networks are an integral part of the ad ecosystem as they play a pivotal role in connecting the publishers and supply sources with advertisers and demand sources. Mobile ad networks have significantly optimized the ad-serving process by effectively connecting these two entities.
Publishers who are yet to integrate their app with an ad network must quickly hop on the bandwagon and start their monetization journey now.
We hope you found this blog informative. Keep watching this space for more such interesting pieces.